This research project originally came out of an opportunity to collaborate with some international students from the Historic Preservation Program at the University of Pennsylvania that were coming to Galway to take part in a hands-on experience of heritage conservation. That group was led by Donovan Rypkema, adjunct professor at the Department of Historic Preservation at UPenn, and also a member of ICOMOS. At Stage 1 of our project, we worked alongside the UPenn students, who did mapping exercises and additional surveying. The results of their work can be downloaded below.
Stage 1 Pilot

The first two stages of the project used the town of Gort, Co. Galway as a case study. At Stage 1 we tried out some pilot surveying techniques in order to record and categorise information on some of the buildings and streets of the town.
The survey template that was used can be downloaded below. An accompanying sheet with guidance on assessing the condition of structures and building elements can also be downloaded below.
In this case, the survey template was quite detailed, as we were interested in capturing various types of data, and we were investigating which types of information could be usefully recorded and analysed. However, more simple templates can also be prepared, which would make for quicker and more focused surveys (see sample templates in My HomeTown).
Stage 2 Public Workshop Heritage Week 2017

For Stage 2 we held a workshop in Gort Public Library during Heritage Week at which members of the public took part in a mental mapping exercise which was designed to encourage the participants to observe the town with fresh eyes and to record their observations. This was followed by a very interesting discussion, during which various aspects of the town were debated. The information poster that we prepared for the event can be downloaded below.
A base map was prepared using maps downloaded from myplan.ie, from which website both historical and current maps are available (for more information on mapping and other useful resources see My HomeTown). This allowed us to assess the extents of the historic core of the town, which then formed the area for the base map. It is a very useful and interesting exercise to compare the historic maps with the contemporary maps, and to trace the development of a town or village over time. Very often the characteristic quirks of a town in its own particular building or street layouts can be identified and explained, deepening our understanding of a place. A report of the workshop process and outcomes can be downloaded below.
Stage 3 Re-evaluating Street Life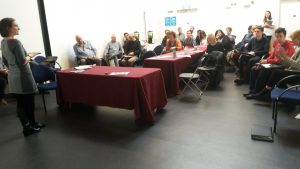 Stage 3 of this project was an event that took place as part of the 'Placemaking' Symposium at NUIG on 29th September 2017 that opened the Architecture at the Edge Festival weekend.
Entitled, 'Re-evaluating Street Life', it was a coordinated set of focused presentations by experts drawn from the specialist scientific committees of ICOMOS:
Gráinne Shaffrey, President ICOMOS Ireland; Placemaking in Small Towns
Donovan Rypkema, ISCEC (Economics of Conservation); The Economics of Conservation, Current Research and Data
Fidelma Mullane, VHNSC (Vernacular Heritage)
Peter Cox, ISCES+CC and NSCES+CC (Energy, Sustainability + Climate Change); Practical Energy Efficiency in Older and Traditional Buildings
Paul McMahon, NSCET (Education and Training); Skills and Training Initiatives for Heritage Contractors
Colm Murray, Heritage Council; Turning Architectural Conservation Areas Inside-Out!
PDFs of the presentations can be downloaded here:
Grainne Shaffrey :  Shaffrey_Placemaking in Small Towns

Donovan Rypkema :  Rypkema_The economics of conservation, current research and data

Peter Cox : Cox_Practical Energy Efficiency in Older and Traditional Buildings

Paul McMahon : McMahon_Skills and training initiatives for heritage contractors

Colm Murray : Murray_Turning ACAs inside out