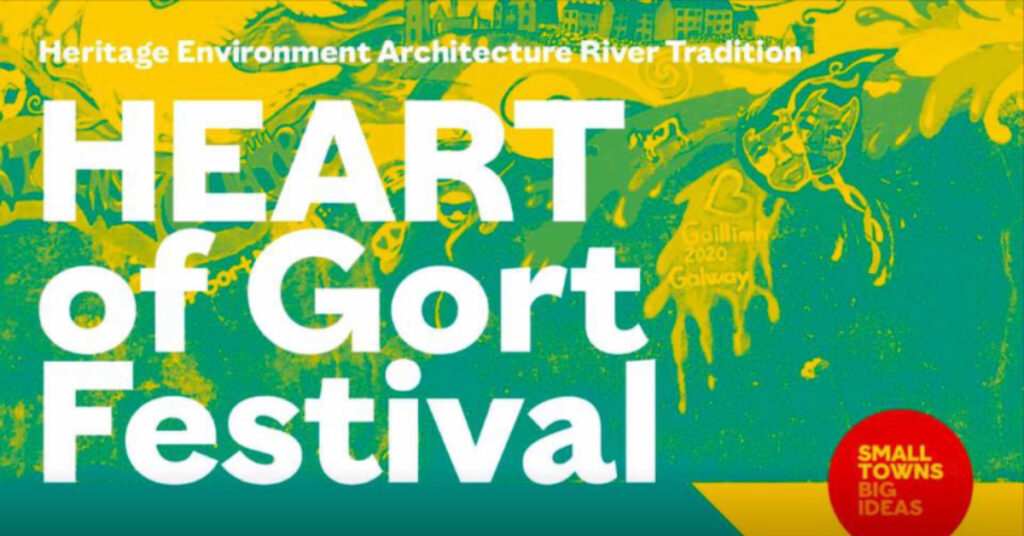 Heart of Gort Festival 2018/2019
Gort was initially the focus of a study by US students in 2017, initiated under the Sustainable Development Goals, as seen in the stages outlined in Gort Research Project 2017.
In 2018, Public meetings were held together with Entopia to identify plans for the town and an application for support for a community festival was made to Galway 2020. Multiple community groups and organisations came together over the course of the next 12 months, culminating in the Heart of Gort Festival on 17,18 May 2019 ( https://www.facebook.com/heartofgortfestival/) which was curated by Baile ( an ICOMOS committee focusing on issues affecting small towns and villages ) and supported by Galway2020, Galway County Council and the local community, including Burren Lowlands.
The community gathering represents a culmination of consultations and public meetings discussing and exploring sustainable development opportunities to support the continued growth and vitality of Gort and its environs.
Key priority areas include:
-Developing a River walk
-Accessibility & Amenity in the Public Realm
-Town Building Repair & Use
-Delivering a Town Festival
The project joint funded by 2020 and the County Council, has built considerable momentum through active collaboration amongst community groups in the local area. These relationships have made the delivery of the festival programme possible with an exciting range of participants contributing towards the two days.
Highlights include:
-The promotion of the town market with food and craft vendors from the locality and surrounding area.
-Open historic buildings, where a selection of landmark and private properties will be open at set times showcasing the vibrant and living architectural heritage of the town.
-An exhibition illustrating the core messages of the consultation processes from across the community and collective perspectives on built and natural spaces.
-A guided river walk discussing the vision articulated during discussions to develop an amenity area and the central role of environmental and cultural heritage in achieving these objectives.
-A showcase of the performing and literary arts reflecting the rich legacy and resulting emerging and innovative cultural scene in the town.
Burren Lowlands, the community in Gort and our partners look forward to welcoming you to the town for this weekend of exploration and discovery.